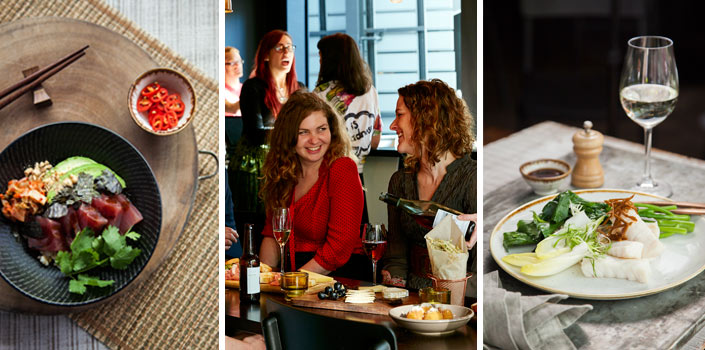 Walsh Bay Kitchen
A stylish, cosy restaurant and bar on Hickson Road at Roslyn Packer Theatre. Enjoy an innovative menu prepared with creative flair, delicious pre-theatre specials, an impressive wine list and a bespoke range of speciality sherries and digestives.
Nestled inside our very own Roslyn Packer Theatre, Walsh Bay Kitchen's menu samples delicious and innovative cuisine. With an emphasis on seasonality and balancing flavour with texture, Voltaire Silva's menu combines a mix of authentic Japanese cooking techniques with innovative modern flavours. Chef Voltaire developed his culinary skills working in Australia, Canada, and the US for over 26 years in various leading restaurants and worked alongside some of the world's greatest chefs. Chef Voltaire brings his vast technical knowledge and creative repertoire to Walsh Bay Kitchen for your dining pleasure.
Furnished with cosy lounge chairs, complete with an impressive wine list, creative house cocktails and a signature sherry/digestives list, this is a great place to enjoy all sorts of culinary delights before or after your theatre visit.
Opening Times
Walsh Bay Kitchen is currently open on performance days only.
Please note, the restaurant will operate in accordance with NSW Health guidelines at the time. If you need to cancel your booking, phone 1300 368 801.
Lunch – reservations are strongly recommended
Wednesday from 11.30am & Saturday from 12pm (as per performance schedule)
Dinner – reservations are strongly recommended
Monday - Thursday from 5pm to 9pm
Friday & Saturday from 5pm to 10pm
Supper – reservations not required
Friday & Saturday after the show
Walsh Bay Kitchen has designed a pre-theatre set menu package to ensure you will get to your show on time. Enjoy 2 courses for $48 or 3 courses for $58 (sides and drinks not included). View menu.
Reservations are recommended to secure your table. Make a reservation.
Supper
Drop in after the show and enjoy a selection of light meals, share plates, desserts, drinks and more. Supper is available post show on Friday and Saturday. View menu.
Theatre bars
Our theatre bars open 45 minutes prior to the commencement of the performance. Please note, food and beverages are not permitted inside the auditorium.
Reservations
Phone: 1300 368 801
Or make an online booking.
Location
Roslyn Packer Theatre Walsh Bay
22 Hickson Road
Walsh Bay NSW 2000
How to get to Roslyn Packer Theatre
Cancellations
If you are unable to attend the theatre on the day of your reservation, please contact Walsh Bay Kitchen as soon as possible. In the event that you fail to notify Walsh Bay Kitchen of your cancellation within 1 hour of your booking time, Walsh Bay Kitchen reserve the right to keep the full payment made. WBK strive to keep all reservations running on time – tables will be held for 15 minutes. If your party is running late, please call 1300 368 801.