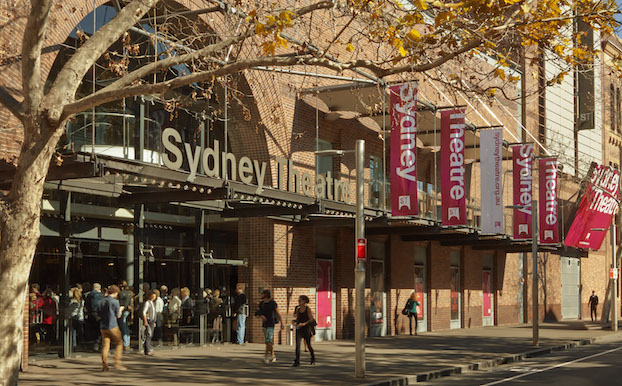 The venue formerly known as Sydney Theatre has been renamed Roslyn Packer Theatre Walsh Bay.
Below you'll find some information that may help you with queries related to this announcement.
Is Sydney Theatre Company changing its name ?
No. Sydney Theatre Company will always be Sydney Theatre Company.
The name change applies to one of our venues, Sydney Theatre at Walsh Bay, 22 Hickson Road.
Which theatre is changing its name?
The theatre at 22 Hickson Road, currently known as Sydney Theatre, is the venue that has been re-named Roslyn Packer Theatre Walsh Bay.
This is the 850-seat theatre situated 100m up the road from STC's home at The Wharf.
If you've visited during 2014 or 2013, you may have seen STC's productions of Macbeth, Waiting for Godot, Rosencrantz and Guildenstern, The Maids or The Secret River at this venue.
The venue also houses two multi-purpose spaces: the Richard Wherrett Studio and the Ruth Cracknell Room. The names of these spaces will remain the same.
Is The Wharf affected by this?
No. Our home base at The Wharf, and Sydney Theatre Company's venues at The Wharf - Wharf 1 Theatre and Wharf 2 Theatre - are not changing name.
Why is the venue changing names?
The name change was offered by STC as a way of acknowledging the decades-long support of one of Australia's great philanthropists, Roslyn Packer AO. This is our way of honouring and celebrating Ros' commitment to the community and in particular her generous contributions that support a vibrant cultural life for Sydneysiders, and the future of arts in Australia.
Roslyn Packer AO also has strong connections to the venue's regular presenters, Sydney Dance Company and Sydney Festival, and many other arts organisations that present work at the venue, like The Australian Ballet.
What is STC's relationship to this venue?
The venue is owned by NSW State Government, and operated and managed by Sydney Theatre Company.
My tickets say Sydney Theatre, will I be sent new tickets with the new name?
No. Ticket holders with existing tickets will not be affected by the name change. Existing tickets will still be valid at the time of your performance. You won't need new ones to get into the theatre.
Valid tickets with either venue name will be accepted by theatre staff.
Is it only the name of the venue that is changing?
Yes, just the name, nothing else will be changing.
All scheduled performances by Sydney Theatre Company, and regular presenters including Sydney Dance Company, Sydney Festival and The Australian Ballet will proceed as normal.
When will the name change happen?
The name change will come into effect on 31 March 2015.
Does this change affect the Terms of Sale at the time I purchased my ticket?
No. The venue's Terms of Sale are unchanged. All sales are bound by the Live Performance Act Ticketing Code of Practice.
I wish to give feedback about this change.
If you'd like to provide further feedback in writing you may:
Email: [email protected]
Post to: STC PO Box 777, Millers Point, NSW 2000