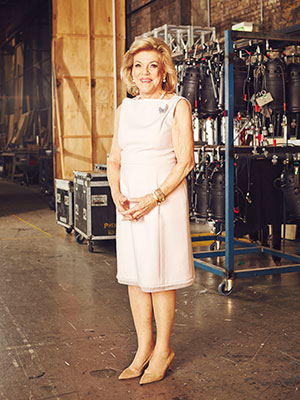 For more than 45 years, Roslyn (Ros) Packer AO has been quietly involved in a wide range of Australian charities, particularly across the arts and health.
Born in 1938, young Roslyn Weedon grew up in Wagga Wagga. She married Kerry Packer, son of media businessman Sir Frank Packer, in 1963. They had two children, Gretel and James, by the time that Kerry unexpectedly became the heir to his father's business empire in the early 70s. In the meantime, Ros had already begun her involvement in charitable causes, principally with Sydney's St Vincent's Hospital.
In spite of her family's renown, Ros' charitable work has maintained a remarkably low profile. She embodies an altruistic style of philanthropy that supports institutions, artists and researchers without seeking to direct policy or programs. She has donated money selflessly and allowed those very same institutions, artists and researchers to determine themselves how that money should be spent.
However, Ros' involvement has been more than merely financial. From 1997 until 2009 she was on the Board of Directors for Sydney Festival, a champion of Artistic Directors Leo Schofield (1998 – 2001), Brett Sheehy (2002 – 2005) and Fergus Linehan (2006 – 2009). From 2002 until 2011 she was on the Council of the National Gallery of Australia and continues to be on their Foundation Board. Similarly, she sat on the Board of the Victor Chang Cardiac Research Institute for 11 years and the Board of St Vincent's Private Hospital from 1995 until 2000, and the St Vincent's Clinic Foundation since 2000.
Steven Lowy AM, former Chairman of the Victor Chang Cardiac Research Institute board, remarked, "Ros has been a constant and driving force behind so much that is great about Sydney in the arts and in medical research. She has gone about this quietly and with great humility and the scale of her work and generosity has not received due recognition."
Sydney Theatre Company is amongst many arts organisations that have been beneficiaries of Ros' generous support. Her well-informed, broad theatrical tastes stretch across genres and aesthetics, making her an engaged, enthusiastic and valued patron of the arts. The long list of organisations to which Ros has given includes: Art Gallery of NSW (Centenary Patron and Foundation Governor); Hunter Valley Community Foundation (inaugural Patron); National Trust of Australia (NSW Life Member from 1964); Opera Australia (Patron Program and Benefactor Patron from 1992); Sydney Opera House (Chairman's Leadership Circle 2008); Sculpture by the Sea; The Australian Ballet (member of the Les Etoiles Group from 2006); and the Venice Biennale (Champion Donor 2005 – 2009).
The announcement that Sydney Theatre at Walsh Bay will be renamed Roslyn Packer Theatre Walsh Bay comes a week before Ros' 76th birthday. In choosing to honour Ros in this way, STC is recognising a lifetime's unassuming, unstinting and inspirational philanthropic leadership.
Further reading
What's in a name? A brief history of Sydney Theatre and its place in Sydney's cultural landscape